Reading Time:
8
minutes
Among a vast selection of navigation software development companies present on the market today, it becomes extremely challenging to choose the right vendor. The best GIS software development company helps to effectively tackle all the challenges of a custom mapping product. At the same time, it allows you to optimize the resources required for this software development and embed the core functions you need in a single app.
In this article, we'll review the most popular mapping software companies that have proven experience in GIS products. Among such, you'll find a comprehensive analysis of the following companies: Mappitall, Trimble, Telenav, Garmin, Intellias, and Topcon, which are highly famous within the GIS industry.
As a part of our discussion, we'll share the benefits of software outsourcing in terms of the mapping and navigation industry, so you could find the right solution for your business objectives and needs.
Best Mapping Software Development Companies
The first thing to start with once you've decided to find the right maps and navigation development company is to search for the possible options that might fit your GIS project. Below we've reviewed the most popular and trusted providers with proven mapping expertise and a wide range of services so you could make the right decision.
Mappitall
Mappitall is a leading GIS company with innovative solutions and a personalized approach to each of its clients. The company has delivered nearly 100 projects and has proven itself as a first-class mapping and navigation firm in the GIS market.
Year of Foundation: 2007
Company's Expertise: GIS mapping and modeling, geo-focused data analysis, web app development, indoor mapping, and GIS consulting services
Verdict: Mappitall company is a universal helper in GIS-based software applicable for B2B and B2C clients. Thanks to the decades of involvement in the mapping industry, the company is also open to atypical projects of all sizes and multiple scopes including transportation, real estate, agriculture, and more. Among all top mapping companies with software development expertise, it has the most experience and narrow GIS specialization.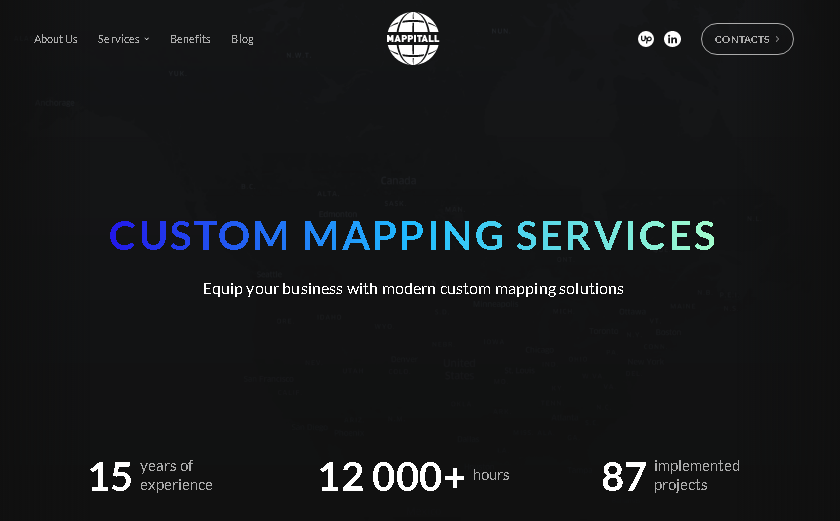 Taken from: http://mappitall.target-solution.tech
Intellias
Intellias is an international company, the main focus of which is targeted automotive, navigation and mapping, and other location-based services. Quite popular among geospatial software implementation companies.
Year of Foundation: 2002
Company's Expertise: Automated mapping and navigation solutions for connected and driverless vehicles
Verdict: Considering its strong focus on vehicle and car technologies, this GIS agency will be a good fit for the companies searching for a mapping and navigational solution within the automotive scope.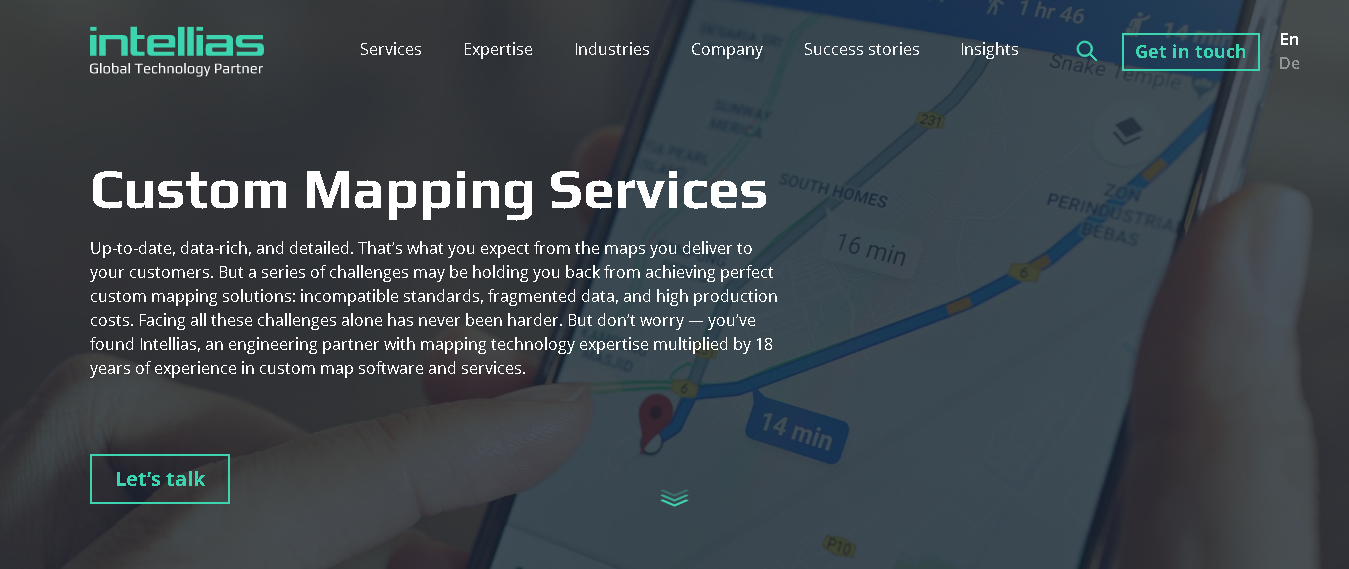 Taken from: https://intellias.com
Trimble
Trimble is one of the best mapping software companies in the geospatial industry that has developed a solid portfolio across various industries, claiming more than 2,000 issued patents for advances in technology.
Year of Foundation: 1978
Company's Expertise: GIS solutions in positioning, 3D modeling, connectivity, data collection, processing, and analytics
Verdict: The company fits companies searching for the advanced tools for data management and analysis for accurate, informed decision-making across a variety of scopes, including geospatial, agriculture, transportation, government, and others.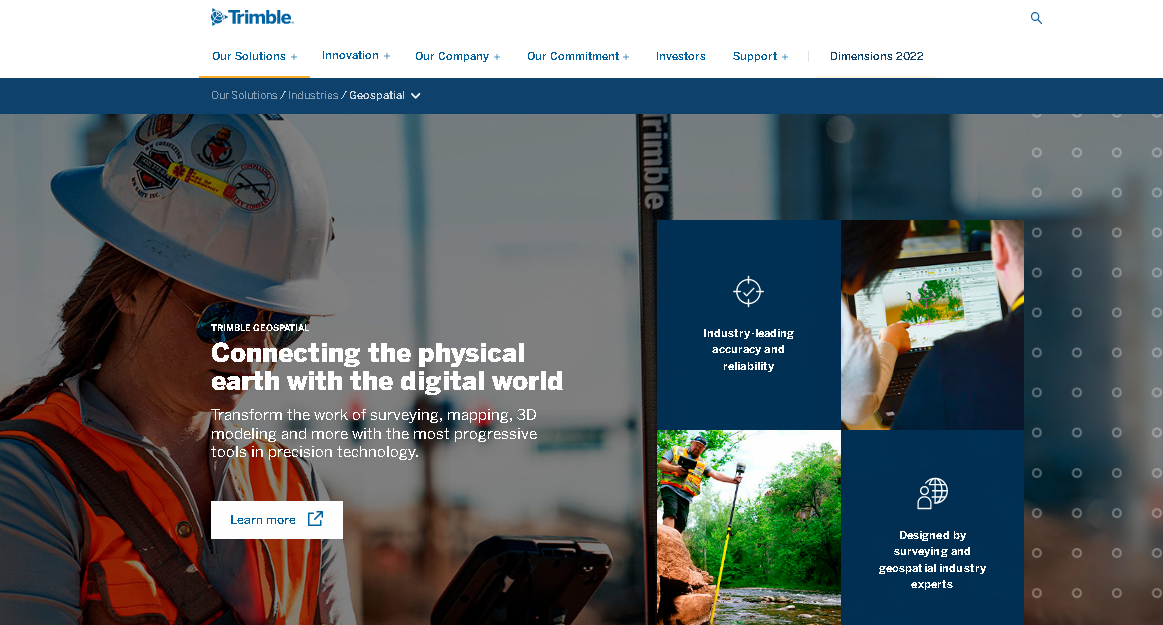 Taken from: https://www.trimble.com
Telenav
Another one of the best geospatial mapping companies. Telenav is focused on creating scalable and versatile platforms, mainly targeted at the world's largest automotive brands and vehicle navigation companies.
Year of Foundation: 1999
Company's Expertise: Satellite navigation, local search, mapping, automotive navigation, big data intelligence, and other vehicle-based services.
Verdict: With a vast list of reputable clients from the automotive industry, the company will mainly fit enterprises working within the current or related industries.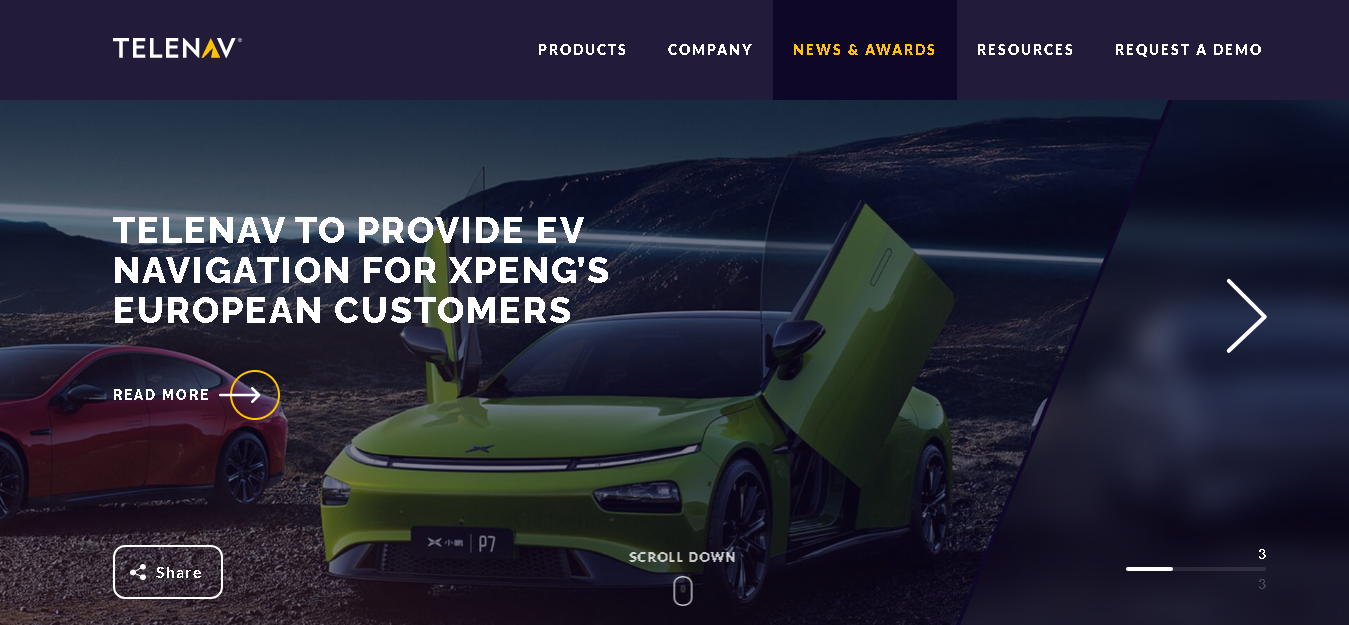 Taken from: https://www.telenav.com
Garmin
The last one in our best GIS development companies. Garmin has so far contributed a lot to the GPS navigation software development, which is now applicable in automotive, transportation, fitness, and other related industries.
Year of Foundation: 1989
Company's Expertise: GPS hardware and navigational applications for the cross-industrial use
Verdict: The company ideally matches the firms looking for GPS navigation solutions of different kinds and ranges, including road, topographic, and nautical maps.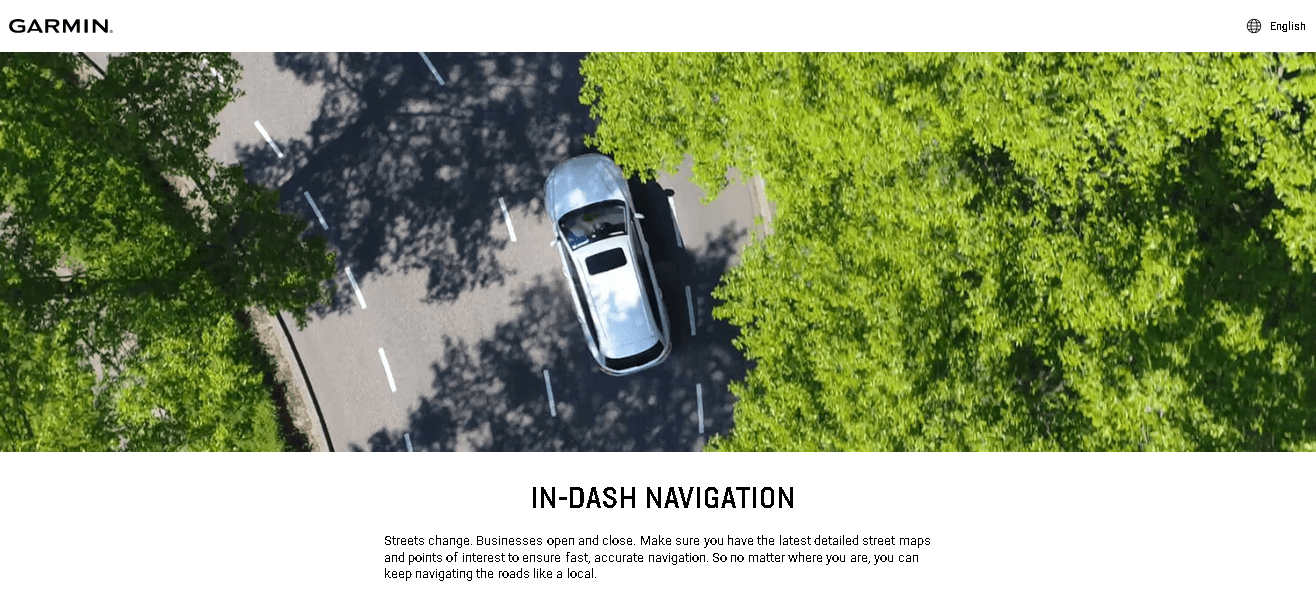 Taken from: https://aoem.garmin.com
How to Choose The Right Mapping Software Development Partner
Having analyzed the top mapping software companies that gained great popularity on the market, let's now summarize what you should look for in a reliable navigation software development agency.
Long-term market presence – to ensure the company is expertise in the target field and minimize the chances of failure.
GIS services provided – to check whether the vendor can perform the tasks you require and deliver the right mapping service you need.
Flexible pricing & Different budget fit – to make sure the company has reasonable rates and can fit your budget.
Case studies – to discover the cases in which the selected vendor has been involved and the outcomes, which helps to form a better idea of what outcome you will get in result.
Customer feedback – is one of the best non-biased indications that the vendor is really worth working with, as it can uncover the strong and weak sides of developers that can appear in the process.
Ratings – not obligatory but indeed a nice way that helps to compare the company's performance on the market and define its efficiency.
All these aspects will help you to ensure the navigation software development company is actually worth your trust. Moreover, that's a great way to choose the right firm from the first pick, which benefits in terms of both time and resource management.
Why Outsource Mapping and Navigation Software Development
Software development outsourcing is a profitable solution that enables custom mapping systems with first-class quality at the most reasonable cost. For this reason, thousands of companies across many industries consider this approach a decent alternative to traditional in-house development.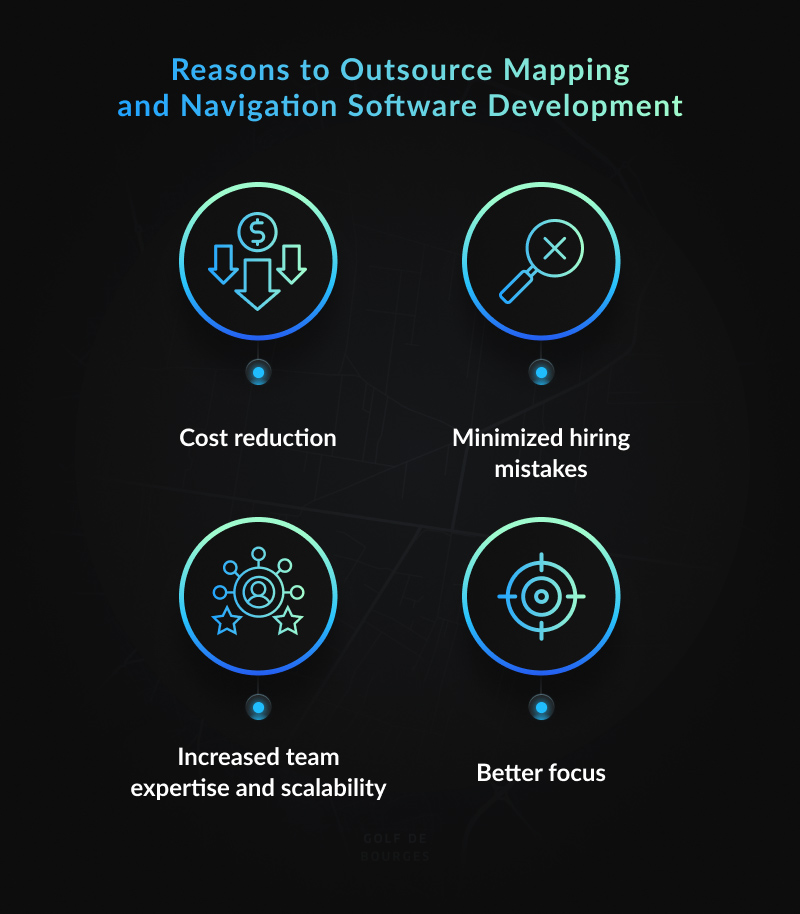 But is it really as efficient as claimed? Here are the facts about software outsourcing that can help you to make an informed decision for planning a mapping software project:
Facilitated cost reduction. Multiple studies have proven the fact that software development outsourcing can significantly optimize the expenses for product development due to the lower labor costs. Depending on the cost of living within a selected country and average rates in it, it's possible to save up to 80% costs without sacrificing the quality or time.
Reduced hiring mistakes. According to the study of Glassdoor's Chief Economist, Dr. Andrew Chamberlain, the average time for hiring a developer varies from 14 to 35 days, depending on the specialist you need. However, if the hired employee doesn't fit for some reason, you'll need to spend more time and resources for the next round of search. Outsourcing, on the other hand, can immediately engage the corresponding development specialists to get started in the development process. As a result, the project is delivered faster with no losses in terms of quality.
Increased expertise and scalability of a team. Outsourcing navigational software development also enables adjusting the expertise/skills of involved specialists, as well as the most optimal number of experts required. Needless to say, this has a huge impact on the project delivery and the quality of its outcome.
Better focus on other in-house business processes. Instead of touring the in-house team between product development and other critical tasks, your employees can focus on decision-making, data analytics, and other essential tasks. Therefore, with outsourcing mapping software development, it's possible to increase employee productivity and business performance, which results in higher revenues and faster company development.
Now that you know all about the top-rated maps and navigation development companies, and learned the advantages of outsourcing the development chores to a reputable company.
Keep on reading to discover how we can help you to deliver the best mapping product that fully complies with your requirements and goals!
Why You Should Turn to Mappitall for Mapping Software Development
So far, Mappitall has proven mapping expertise of more than 15 years in worldwide software development. The company has been known as a powerful cartography and GIS web development provider, with nearly a hundred successfully implemented projects of a wide range of services.
Many of the contracting companies have become our loyal clients, mainly because of the personalized approach and the quality of the products we deliver. The services we offer include the following:
GIS mapping and modeling of different range
Data analysis (geo-focused)
Web app development
Indoor mapping software
GIS consulting and more
Today, our company is one of the best navigation software development companies that deliver first-class GIS solutions at a reasonable price.
Already have a project for us? Contact our customer department to request a free consultancy and get your mapping software in the shortest time!
Final Thoughts
To conclude, there are many decent companies that develop mapping and navigation software with each of those offering a variety of different GIS services. In order to gain the most out of your vendor, it's essential to check the company's expertise and project background, yet review the services it offers. This will give you more knowledge about the company's value and whether it corresponds to your business needs.
At Mappitall, we know how critical it is to choose the GIS vendor you can entrust all the development chores to. That is why we have a personalized approach for each of our clients and are ready to deliver the leading mapping solutions for your business.
If you have any questions concerning the GIS apps or web development, feel free to reach out to our team. We're always here to help you reveal all your doubts and create the best navigation and mapping technology for your company!
Frequently Asked Questions
Still have some questions concerning the navigation and mapping software development companies? Discover the most common of those answered by Mappitall's best GIS experts!
What do mapping development companies do?
Mapping development companies are responsible for creating software systems aimed to map, model, query, and analyze large quantities of data within a single database according to the selected location. These solutions facilitate the data migration, data integration, and other data management processes, preparing it for further use in business.
Which companies are best for navigation software development?
Based on the analysis of various mapping development companies presented on the market today, the winning options today are Mappitall, Intellias, and Trimble software development enterprises. Each of those features cross-industry expertise, hundreds of successful mapping development cases, and skillful developers ready to tackle any challenge their clients come up with.
How much does it cost to hire mapping software developers?
The development rates for mapping software are extremely volatile and depend on many factors. Each mapping software development company sets the pricing based on the project's duration, its complexity, and the number of developers required. However, the final costs will also depend on the local developer rates and their expertise (junior to senior).
To get accurate development estimates, it's recommended to request a consultation from the mapping provider. Their consultants will calculate the price based on your project's specifics, covering all the aspects outlined above.
Where to find a mapping software development company?
Today, the easiest way to find any map and navigation development company is to search for the right one on the Internet. Luckily, platforms like Clutch, GoodFirms, and Linkedin can tell you a lot about the company's background, industry expertise, and case studies, as well as the experience of previous clients.
This will help to ensure you'll get the first-class development services needed at the most reasonable costs.
Why is Ukraine the best for navigation software development?
Getting navigation development services from Ukrainian developers is an excellent option for companies that need a solid software solution at the most reasonable costs. Developers from Ukraine feature strong tech background and deep expertise across many industries, including mapping and navigation scope.
IT specialists from Ukraine are responsible and always open to communication, they never miss deadlines or client requirements.
So, entrusting your mapping project to Ukrainian specialists will help you to get a high-quality product in terms of the price-quality ratio.