Reading Time:
10
minutes
Over the centuries, agriculture has played a vital role in the development of every country. It represents a substantial trading industry for an economically strong country. In many cases, it is also one of the most powerful sources of a country's budget replenishment.
Therefore, the farming industry is continually improved with a variety of advanced digital solutions such as remote sensing and geographic information systems – GIS for agriculture.
According to Ample Market Research, the Global GIS Software in Agriculture Market is expected to surpass $14.8 billion during the 2020-2030 years. Compared to the 2020 market share of $9.3 billion, it's a significant surge of about 59%.
The main driving forces for such an increasing demand for agricultural GIS include increasing awareness regarding food insecurity and the need for precision farming to reduce costs and expand crop yield.
Along with that, GIS software provides smart solutions to the existing problems in agriculture, covering the water availability, soil and land conditions, crop monitoring and condition assessment, yield estimation, land use, damage assessments, and many other parameters.
In this article, we're going to make a detailed overview of the role of GIS in agriculture, its benefits, and its use cases.
You'll also discover how GIS software is used in the agriculture business, its perspectives, and whether it can fit your business.
Overview of GIS Solutions for Agriculture
Geographical information systems, also known as GIS, refer to the advanced technologies, responsible for the regulation, storage, calculation, analysis, display, and interpretation of geographically related data with the help of computer hardware and software systems.
These technologies are now widely used to maximize farm resource use to meet the increasing demand for food. At the same time, GIS solutions in agriculture can greatly optimize productivity and marginality at lower costs.
By 2030, Global GIS Software in the Agriculture market is expected to project a notable CAGR of 13.96%. The core reasons for this increase include the rising food insecurity and strong demand for technology adoption.
Also, there are many government initiatives aimed at developing prospective solutions in agriculture. GIS solutions enable achieving higher yields at lower costs, help to rationally manage the resources, and reduce the risks of marginalization and vulnerabilities.
The applications of GIS in agriculture, offered on the market today, can be segmented in two different ways:
By component: Hardware – GIS Collector, Total Station and LiDAR, etc; Software – CRM, Enterprise Resource Planning (ERP), GIS Analytics Software, Cloud Computing, AI solutions, and others;
By end-user: Agriculture, Oil & Gas, Architecture, Engineering, and Construction, Transportation, Utilities, Mining, Government, Healthcare, Retail, and Others (Marine, Education, and Forestry).
There's a common stereotype, that GIS software is used exclusively in farming, but it's implemented in many industries today: urban planning, catastrophe management, transportation management, smart city growth, etc.
Here's the detailed overview of the GIS market specifically for the agriculture industry.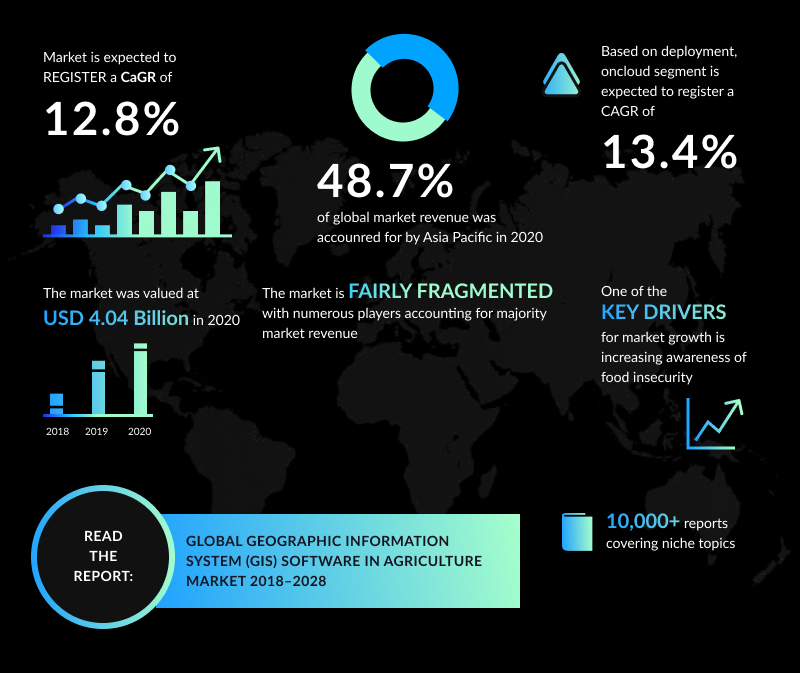 Taken from: https://www.emergenresearch.com
In 2020, the global geographic information system software market stood at $6.3 billion, and by 2030 can reach $25.5 billion at an impressive CAGR of 15.2%. Along with permanent drivers, GIS software development is highly stimulated by the COVID-19 pandemic.
In the upcoming decades, the demand for GIS for agriculture will increase and not solely because of permanent drivers. Because of the Russia-Ukraine war, the agricultural commodity is continually increasing.
According to Time, world hunger surged by 25% last year and the toll is rising as the war in Ukraine sends food prices ever higher. So, there's never been a better time to search for the resource-effective and marginal approaches in agriculture. Without any doubt, one of such is implementing geographic information systems.
Who Needs Applications of GIS in Agriculture?
After we've reviewed the market state of GIS solutions for agriculture, it's time to analyze its users. In fact, the GIS in farming is not solely related to farmers and agriculturists: this software has become a must-have for a variety of fields.
Farmers & Entrepreneurs in Agriculture. One of the largest audience pools interested in implementing this type of geographic information system software in agriculture sector. Using GIS farmers can increase production and reduce costs by better management of land resources. For instance, GIS software has the capability to analyze soil data and determine which crops should be planted where. Or else, how to maintain soil nutrition so that the plants are best benefitted and bring a better harvest.
Agricultural Companies. The industry-related companies can use GIS mapping software to meet the various challenges of the farm industry. These include regulatory compliance, permit distribution, subsidy tracking, pest management, and many more. Moreover, it enables effective sharing of the information internally, between companies or their clients.
Control Companies. GIS and agriculture are not solely targeted in the business. This software is also widely used by governmental and regulatory authorities as well. Typically, these cover pest control companies, subsidy control agencies, regulatory compliance, and more.
Agro Transport Companies. Agricultural GIS delivers powerful spatial analytics and helps to reduce the number of accidents on roads. As a result, companies can discover different patterns and gain insights for a better understanding of transportation behaviors and effectively plan the logistics.
Research Institutions. Applications of GIS in agriculture can also greatly help when conducting various researches. From risk management and disease tracking to food inspection and rural development, GIS solutions are implemented in almost all fields.
As the agricultural sector is continuously evolving with innovative digital technologies, GIS software facilitates the workflow, analytics, and management of the target industry.
That is why use cases of farm GIS software cover individual people, communities, research institutions, environmental scientists, health organizations, land-use planners, businesses, and government agencies at all levels.
Role of GIS in Agriculture
Now you're more than sure: geographic information systems are extremely prospective in farming. But what makes them that valuable for the current industry? To get a better understanding of that, let's now review the major use cases of GIS in agriculture.
Agricultural Mapping
Agriculture mapping is the cartographic system that reflects land differentiation by agricultural production. Usually, different types of agricultural maps cover a wide range of information, indicating the uses of land, the means of production, and manpower in comparison to output in each area.
GIS mapping software helps to better visualize, understand, plan, and act when coordinating detailed and complex farm management programs. With GIS maps, farmers can optimize the workflow and mitigate risks with no damage to the natural regeneration or their business.
Soil & Nutrient Analysis
GIS is also an excellent tool for measuring specific qualities of the soil that vary across the land. Agriculture experts get more opportunities for effective resource management, which helps them to reach the highest ROI rates. Soil analysis helps to discover the most profitable crops for a certain area and gain a better understanding of the soil area potential.
Crop Yield Prediction
Predictions and forecasts are an essential part of nearly any industry today, and farming is not an exception. Accurate yield prediction can help to ensure food security, forecast profits, and plan budgets. In the majority of GIS solutions for agriculture, the forecasting is based on satellites, sensing, big data, and AI technologies.
Crop Health Monitoring
Manual check of crop health is probably one of the least resource-efficient options today. At the same time, that's also one of the most prominent use cases of GIS in agriculture!
With the help of satellites and input information, farmers can get a better idea of the crop growing progress based on the humidity, air temperature, weather conditions, and others. Moreover, it is an excellent chance to learn which areas require more attention and provide insights on how to properly treat them.
Livestock Monitoring
Apart from the crops, GIS solutions for agriculture can be similarly used in the animal farming sector. With geographic information system software, farmers can easily monitor animal health, fertility, and nutrition within a single app on their device.
Convenient data visualization enables effortless tracking of the key parameters of each animal, alarming about the changes and even preventing the wolf-cattle encounters!
Insect and Pest Control
The invasion of harmful insects and pests, or infestation, does heavy damage to agriculture. The AI-powered GIS technologies help to accurately and timely prevent these issues.
This technology improves through consistent training and analysis, helping to effectively discover, localize and eliminate the infected crops or animals.
Irrigation Control
The larger areas you operate with, the more attention they require. Ensuring that each crop gets enough water is an extremely challenging task, which in fact can result in good yields.
In the modern GIS for agriculture, aircraft and satellites take a high-resolution picture of crops, allowing AI algorithms to calculate the water stress in each crop and spot visual patterns behind water shortages. Combine those images with water delivery system maps and you'll easily get the perfect irrigation scheme for any area.
Flooding, Erosion, and Drought Control
Along with the usual factors that may affect yields, farmers should also keep in mind the destructive natural phenomena. GIS solutions can help farmers prevent, assess, and mitigate the negative impact caused by flooding, erosion, and drought. The system makes a detailed historical data analysis of the past floods, field surveys, and satellite images to spot and map the risks, as well as to build forecasting.
Farming Automation
Probably, that's one of the most notable factors that can dramatically impact resource management. The use of GIS in agriculture enables the creation of interactive maps that cover all the necessary information about the crops in the field.
For instance, if the system defines the weed infestation, it can assign the task to the weed remover robots. Also, it can be a great tool for the workers to do the job more effectively even with only a little expertise and pay attention to certain areas of the workflow.
Management of Agricultural Production
GIS technology for agriculture can benefit farm information management about the products, procedures, yields, and inventory. As an example, the software enables the tracking of various farming processes, such as production records, chemical use, growth analysis, and many more.
Natural Resources Management
The rising human population creates increasing pressure on natural resources nowadays. Remote sensing and GIS networks can enhance the smart management of limited resources. Overall, they help to determine and analyze the factors that affect the utilization of these resources and how they can be improved.
Therefore, farmers make more profitable decisions and ensure the sustainable use of natural resources to meet the needs of the present and future generations.
Main Benefits and Use Cases of GIS in Agriculture
Knowing the basic fields GIS innovations can improve, it's time to look deeper at the advantages it provides for a farming business.
Better decision-making. GIS solution is a great fit for consulting and regulatory agencies in agriculture, as they provide more accurate and informative data about the specific problems and optimization opportunities.
Cost savings result from greater efficiency. A vast number of case studies prove that these services can significantly optimize farming expenses. Artificial neural networks can lower the cost of analysis of geologic and hydrologic information by reducing the amount of time spent interpreting data.
Improved communication. GIS technology enables a better understanding of the current state of affairs and improves the partnership. Most data within your organization relates to a geographic location, such as client addresses, sales figures for geographic regions, statistics to target specific groups of people, and more.
Better geographic information. GIS software also features various digital tools to provide relevant, up-to-date geological and hydrological data for a certain area. Therefore, farmers and agriculture specialists are always aware of the resources they have for achieving the best outputs.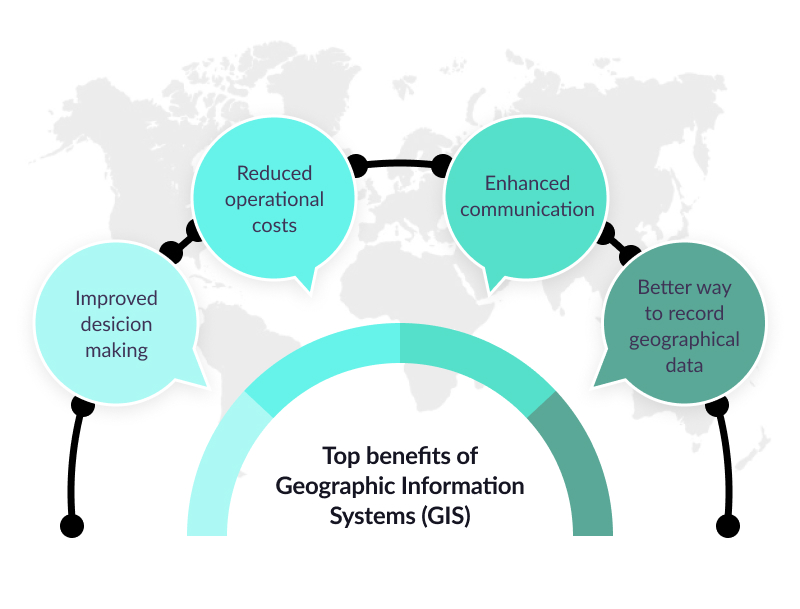 Taken from: www.dista.ai
What Is the Future of GIS in Agriculture?
Having discovered the exact GIS benefits for farmers, entrepreneurs usually wonder about the potential of this system. In fact, being a high-demand tech solution in farming, the role of GIS solutions will only increase within the target industry.
The major reason for this is a gradually increasing demand for food, which will double by 2050, according to the World Resources Institute.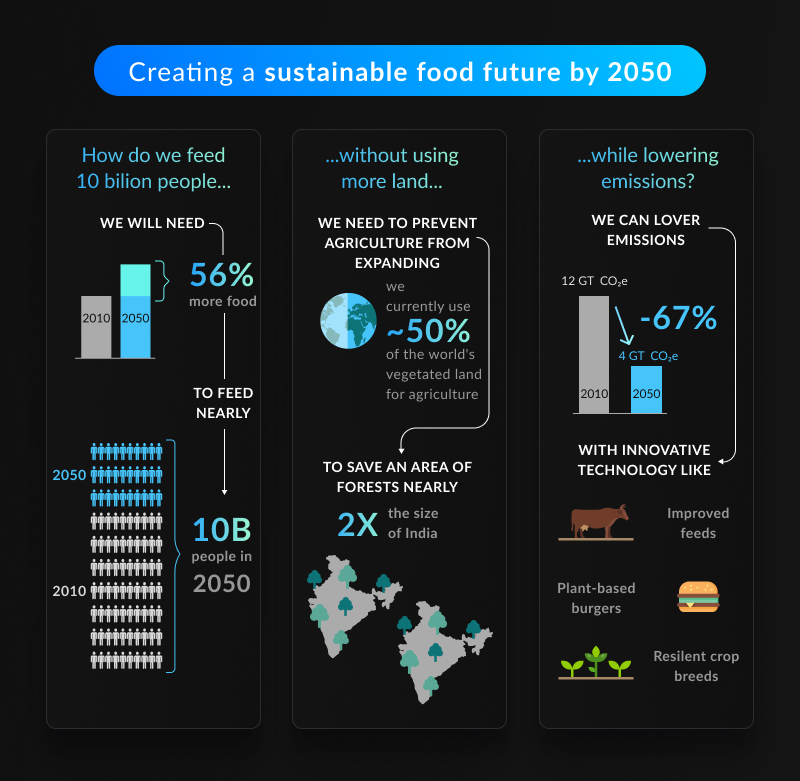 Taken from: www.wri.org
However, the ability to automate and streamline a variety of processes within agriculture will help GIS solutions effectively manage the resources and achieve the highest yields. So, instead of postponing the tech revolutions to the better times, start creating your custom GIS technologies today!
How Mappitall Can Help With GIS Solutions for Agriculture?
For more than 15 years, the Mappitall company has been delivering exclusive custom mapping services for businesses. Our team features vast experience in narrow fields of knowledge, as well as high awareness of main trends in the agriculture business. We are always eager to meet various challenges and take advantage of our cross-domain expertise in mapping solutions.
By entrusting the GIS mapping development, you're sure to get the first-class technical solution that fulfills all the business goals and needs. Whether you need to create cartography, data analysis, or indoor mapping – contact us and get your perfect project delivered today!
Final Thoughts
The objectives of agriculture haven't changed much so far. However, the application of GIS in agriculture has significantly empowered a variety of processes within this industry. With GIS software, farmers, businesses, and enterprises can optimize the workflow and enhance resource management.
Effective planning and forecasting helps to continually keep an eye on vast fields or farm animals. High-resolution cameras, advanced mapping, and AI-powered solutions on GIS can maximize production and increase business profitability.
In other words, agriculture software development is one of the leading sources of new solutions to old problems. It has a huge potential to help the industry feed the world, cut food prices, and save the planet.
Frequently Asked Questions
Discover the expert comments on the most common questions about geographic information systems in agriculture!
In Which Aspects of Agriculture GIS is Used?
Geographic Information System software features extensive usage within the agriculture field, with the most prominent cases in farm management, soil analysis, and crop monitoring. However, there are many other use cases of farm GIS software, which cover farming automation, livestock monitoring, insect and pest control, irrigation control, and more.
How Can GIS Help Reduce Costs in Agribusiness?
GIS software can provide many cost-effective solutions to farming challenges. These include the capability to analyze soil data, track the progress, and timely define and effectively resolve the issues.
Farmers can also increase productivity and reduce costs by enabling better management of land resources. Finally, GIS technologies in agriculture automate manual work and provide valuable insights into workflow optimization.
What Are the Five Components of GIS?
The key components of any custom GIS software include five different aspects: hardware, software, data, people, and methods.
Where to Find Developers of GIS Solutions for Agriculture?
To create a custom application of farm GIS software, it's essential to find dedicated software developers with thorough knowledge of mapping solutions. Luckily, you've landed on the right page!
At Mappitall, we have been empowering our clients with robust custom map software since 2007. Our team of experts features deep and industry-specific expertise in mapping solutions and is ready to resolve nearly any challenges regardless of their complexity. So, if you're ready to get your mapping project started – contact us immediately!