Reading Time:
9
minutes
As the world has entered the digital era, various industries across the globe started implementing advanced technologies and innovations to enhance their performance and profits. The real estate industry is not an exception: its market is expected to grow at a healthy pace during the forecast period of 2022-2030, according to Grand View Research.
As of 2022, the global real estate market size was valued at $3.69 trillion in 2021 and is expected to expand at a CAGR of 5.2% to 2030. While this industry evolves, more and more real estate mapping solutions are implemented to optimize and streamline various processes and increase revenues.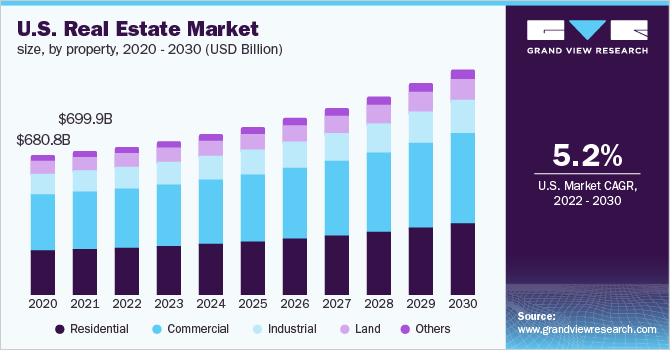 Taken from: https://www.grandviewresearch.com/industry-analysis/real-estate-market
In this post, we'll discuss one of the most lucrative and prospective technologies in real estate today – Geographic Information System Mapping, covering its core benefits and typical use cases.
As a part of our discussion, you'll discover whether this technology fits your business and how to launch an application of GIS in real estate.
GIS Software in Real Estate: How It Works
GIS is a framework for gathering and analyzing data to create layered mapping displays. These maps are easily shared and embedded in apps, and accessible by virtually everyone, everywhere.
Overall, GIS solutions help to reach a common goal of gaining actionable awareness from various data within the target industry. This data usually includes imagery, features, and base maps linked to spreadsheets and tables.
In real estate, GIS technology is applied to specific online systems, showcasing different types of data relevant to brokers, real estate agents, and their clients (potential investors/buyers). For instance, this data can cover the flooding risks, infrastructure overviews, land quality, census, demographic information, and more.
Therefore, with the use of GIS data, property investors and buyers can make profitable data-driven decisions, as well as determine the real value of their assets and their perspectives.
On the other hand, it's even more critical for real estate agents, since they can identify the key features of each specific asset and create a strong and compelling marketing strategy to attract potential clients. As a result, real estate brokers and property agencies can take their sales to an entirely new level.
The Types of Real Estate with GIS Solutions Applicable
Once the role of GIS in real estate is discovered, the next aspect to review is the sectors of real estate where GIS maps are applied. According to ResearchGate, there are five different categories of real estate, the value of which directly depends on the location. Below you'll find a brief overview of how GIS services are applied in each of those and what profits they can bring to real estate agents and brokers.
Residential Real Estates. In this segment, the real estate GIS usage allows for analyzing and processing different sorts of information related to residential areas. Parcel, zoning, tax, census, flood risks, and demographic indicators help evaluate the economic potential of landing units and residential sites.
Retail Real Estates. With GIS and data integration, companies can make data-driven decisions based on the target business goals and current market trends. The system enables storing data about GDP, income, habits, and demographic composition of a certain territory. So, enterprises can easily identify the urban areas where their business might expect to achieve the highest profits.
Offices. For this category, the most sensitive data covered relates to transportation, stops, parking possibilities, the surrounding services (restaurants, shopping options), and more. GIS solutions are also applied to determine the most appropriate location for office real estate.
Industrial-Logistical Real Estates. Within the target scope, the most critical factors are also related to the transportation conditions and route planning. GIS for commercial real estate, as well as industrial and logistics entities, are mainly focused on transportation specifics (covering both product delivery and accessibility for customers). So, logistical centers and industrial parks often settle next to the ring roads surrounding the large cities.
Agricultural Real Estates. The land market is primarily adjusted to the local supply and demand conditions, so the maps generated with GIS can drive more quality leads. In this scope, customers are searching for concrete parameters to perform a certain activity on the land. Therefore, knowing the accurate elements of the land location can really come in handy for both real estate agents and their clients.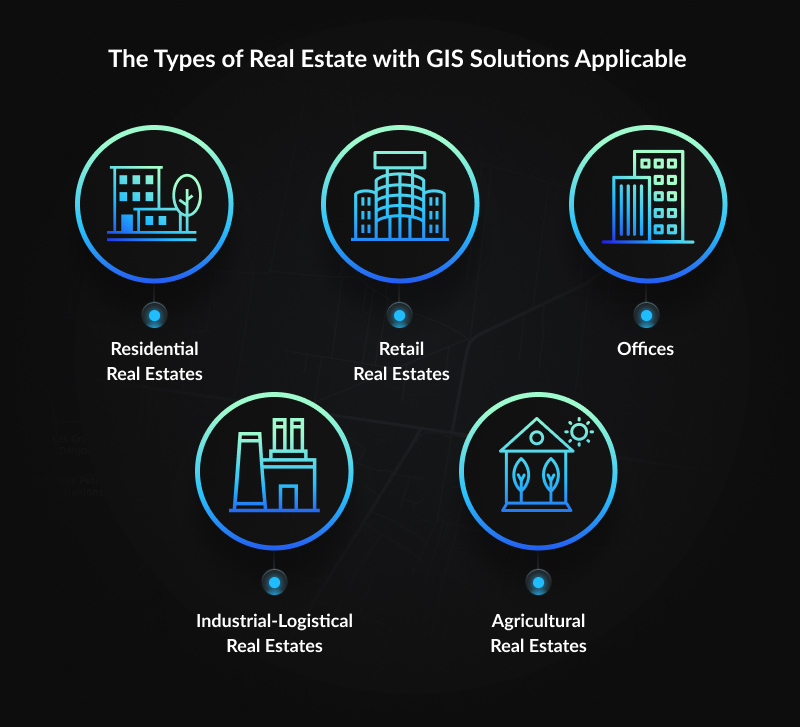 Who Needs GIS Solution in Real Estate?
Knowing the scopes of use of GIS in real estate, it's time to go deeper into who and why should implement this solution into the workflow. Overall, GIS software development for real estate is widely used by brokers and appraisers, real estate agents, and, of course, various agencies which work within a target field.
Brokers and real estate agents can use it for creating a powerful marketing campaign and attracting a more relevant audience. Appraisers can better estimate the value of a certain facility to generate lucrative offers for both parties: property sellers and buyers.
Real estate agencies can make informative and appealing offers, improve employee management and their expertise in consulting, as well as increase customer service.
At the same time, GIS in facility management can significantly boost sales and enhance the interaction between sellers, mediators, and customers, which plays an essential role in the real estate industry.
Typical GIS Features Used in Real Estate
Though GIS in facility management is a comparatively new technology, it has already started the revolution within the target industry.
As mentioned above, this solution helps to increase the client service and better understand the market and critical factors that impact its development.
Being centered around the location, GIS mapping solutions also help to discover accurate information about the property and filter out the options that do not fit the target requirements. Thus, it helps brokers accurately select the best properties for purchase, while clients are guaranteed to get exactly what they need.
Generally speaking, the most important features that make GIS for real estate a must-use tool today cover:
Land ownership
Zoning
Floodplain areas
Value per acre
Municipal boundaries
Census data
Population density
Wetlands and water
Topography
Transactions
Points of interest
Infrastructure & proximity to schools, cafes, etc
Traffic counts
Other land surface data related to the specific points of interest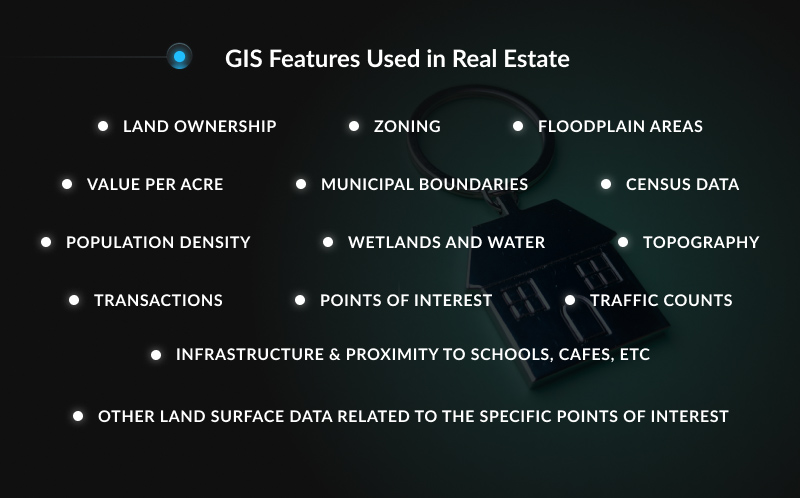 How GIS Solutions Help Real Estate Companies to Grow
In today's realities, GIS and the real estate industry have already become inseparable. They've been consistently implemented into a wide range of real estate scopes mainly because of the advantages they provide. Below are some of the most common reasons why GIS technology is so important for facility management among real estate partners.
Time-Saving & Resource-Efficient Advantages
Accurate Visualization of All Types of Data With 3D Launched in the early 1960s, GIS technology today can become a time saver for the real estate industry, mainly because of its ability to address specific data for detailed analysis. Brokers and appraisers can find land and property information accurately and quickly, which adds to both customer service and sales performance.
Similarly, this helps to learn more about the target area and visualize valuable data that matters within the point of interest. Therefore, real estate agents can optimize and streamline their workflow and ensure the best service to their clients.
Accurate Visualization of All Types of Data With 3D Mapping
In 2020, the 3D Mapping and 3D Modeling Market was valued at $13.49 billion and is expected to grow a CAGR of 20.9% over the forecast period 2021-2026 (Research and Markets). The emerging development of this technology has also resulted in its wide implementation in GIS mapping and the real estate industry in particular.
GIS solutions highly benefit in data 3D modeling and visualization, which for the real estate industry is simply a must. First of all, evaluating land data plays an important role in property or business development, the major aspects of which can be now processed on one screen.
With the 3D GIS mapping, real estate brokers get an excellent chance to clearly and accurately interpret the data and promote different options available. At the same time, clients can ensure the property or land is actually worth its money and resources, and quickly make the final decision.
Real-Time Mapping & Map Personalization
Another one of the popular GIS applications in real estate. The real estate industry addresses different sorts of property data, including land ownership, zoning, value per acre, flood zones and wetlands, municipal boundaries, census data, points of interest, traffic counts, and more. Being overwhelmed with data, it becomes really challenging to see the whole picture, not to mention introduce it to clients.
However, real-time mapping helps to filter out the less attractive options and highlight the key property information, relevant to the potential buyers. Such a personalized approach helps real estate agents to strengthen their marketing efforts, create a powerful, data-driven offer and improve customer service, which is exceptionally important for today's property buyers.
Advanced Market Insights
GIS and real estate analysis implies a multi-aspect analysis of different property analyses. Along with a single property overview, brokers, appraisers, and partner companies can not solely work with a single option, but also introduce a comprehensive analysis of all the relevant properties available.
Some of the advanced GIS solutions in real estate also feature a detailed review of the most sensitive data, such as property age, traffic situation, infrastructure, and other criteria that give a better idea about the property's actual value. Additionally, they can analyze the market trends, helping companies to get the highest profits from each contract.
Precise Property Evaluations
Regardless of the property type, its location is surely the most critical aspect in real estate that forms its present value. It's possible to change the condition, size, or planning, but the only thing buyers (and sellers) cannot impact no matter how they try – is the location.
Luckily, GIS provides a plethora of advanced insights on what aspects are appreciated on the market and which of those are not!
Examples of GIS Software Solutions for Real Estate
In fact, the practice of launching GIS software is not new to the real estate market. Here are some decent GIS solutions developed recently:
BatchGeo. A decent GIS software for real estate that helps to effectively visualize data from spreadsheets, to tables in web pages and databases.
Surfer. This tool is a full-function 3D visualization, contouring, and surface modeling package that can come in handy for the analysis and presentation of real estate properties.
Maptitude. A decent option for those looking for detailed analytics of various demographic data and its impact on real estate entities.
GeothinQ. The tool is directly focused on the real estate industry and provides on-demand GIS solutions for commercial real estate brokers, land developers, and others to make land acquisition easier.
Nevertheless, once the entrepreneurs experience all the benefits of combining facilities management and GIS, they consider creating an all-in-one mapping platform with the most essential features covered in it. Luckily, there are plenty of professional development teams ready to create a custom GIS system for the real estate business of any range.
How to Achieve Success in Real Estate With Mappitall?
Mappitall is one of the leading GIS software development companies that empower their clients with robust custom map solutions. With over 15 years of experience within the target field, we have launched almost a hundred unique projects within a wide range of industries, including agriculture, transportation, energy, ecology, and many more.
Our team has vast experience in GIS for facility management and so far has helped numerous real estate businesses across the globe. Whatever challenge you have, we're always ready to deliver the best solution that ideally fits your goals.
Each of Mapitall's experts is highly focused on the project's success and client goals. That is why our developers tackle all the aspects, from the project's initial discovery to launching the cartographic solution that serves their real estate business best.
Final Thoughts
GIS for real estate is an excellent cost-saving and time-efficient technology that has become simply a must-use solution today. It enables focusing on effectively selling a wide range of properties, resulting in happier clients.
That is why it's been already implemented and used by thousands of real estate agents and companies, brokers, and appraisers across the world. And that's why you surely consider GIS software development for real estate to upgrade your business today!
Contact Mappitall's best experts to launch your first GIS development project and get the most of your real estate business today!
Frequently Asked Questions
Still, have some questions about the GIS solutions for real estate? Keep on reading to discover the common questions about the mapping solutions in real estate, explained by our best GIS experts!
How can GIS solutions be useful for real estate brokers?
It's commonly said that brokers and real estate agents use GIS solutions solely as a powerful marketing pitch. In fact, it also helps to better visualize the location data, analyze the property characteristics, and effectively combine and visualize various types of relevant information.
How is GIS applied to property valuation?
Property valuation is an essential process that determines the economic value of a real estate investment (Investopedia). Accordingly, real estate GIS solutions can get up-to-date data required for property valuation, covering the type of real estate and its location, technical parameters, zoning, tax, census, flood risk, and demographic data.
Thus, with such a detailed property overview, brokers can determine the most accurate value on the real estate market, as well as find out the potential profits they'll get as a result.
How do real estate agents use GIS data?
Real estate agents depend on accurate location intelligence, property analysis, and deep knowledge of the major insights on the target market.
By applying GIS software, they can make use of location-specific data, world-class mapping, and visualization technology to perform profitable investments, sign lucrative agreements (contracts) and successfully achieve their business goals.
Who can create a real estate GIS solution?
​​Creating GIS solutions in the real estate industry requires not solely an excellent knowledge of GIS mapping basics. Additionally, developers should keep themselves in the loop about the latest trends in real estate, as well as the current problems within the industry.
When choosing your GIS development team, ensure they possess expertise working with real estate GIS and can prove their experience with the recent projects within the relevant industry.
How much does it cost to develop a GIS solution for real estate?
Regardless of the industry, the costs for launching GIS depend on the expected budget and the project's complexity. To find out the accurate budget for developing custom GIS software for real estate, we recommend requesting a consultation from the selected GIS vendor.
With years of experience developing GIS solutions, Mappitall features a deep knowledge of developing GIS solutions across various industries, including transportation, agriculture, real estate, and many others. Contact us today to get more insights about the custom GIS software development for your real estate business!