Reading Time:
8
minutes
Governments, organizations, and businesses base their decisions on digital data. The Geographic Information System enables us to visualize, analyze, and interpret large amounts of data. That's why it's so important to know the current GIS trend and how to incorporate it into your software.
GIS technology is developing at an accelerating rate, and it may be hard to keep pace with the latest trends and implement them successfully in your business. If every new tech trend gives you more questions than opportunities, we have a solution. Read the article and find out about GIS industry trends for 2022-2023.
Mappitall's experts can equip your company with cutting-edge mapping solutions. As of now, we have implemented 87 projects helping our clients develop GIS software.
How is the Geographic Information System (GIS) Market Growing
Before we move to explore technology trends in GIS, let's take a look at the GIS market size. According to the "Geographic Information System (GIS) Market Research Report: By Component, Function, Data Type, Project Size, and Industry – Global Industry Analysis and Growth Forecast to 2030", GIS market value will increase to $24,607.7 million in 2030. In 2020 the GIS market revenue reached $8,185.9 million, and this number is to grow at a CAGR of 11.6% in a decade.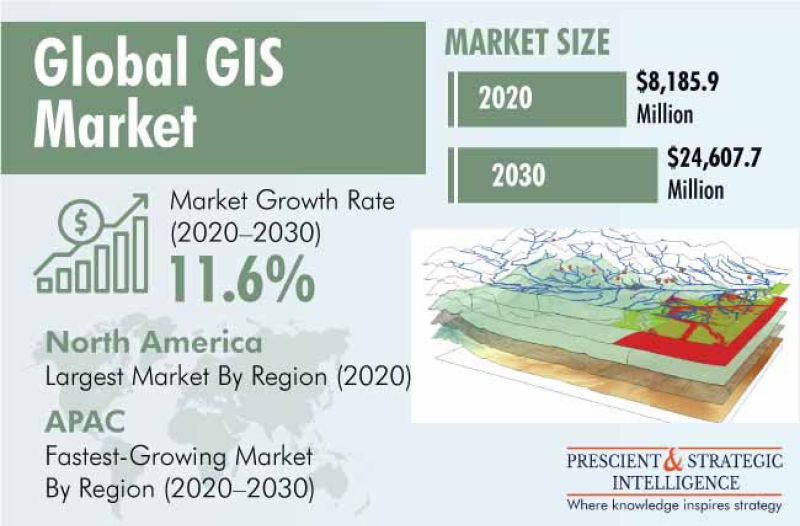 Taken from: https://www.psmarketresearch.com/market-analysis/geographic-information-system-market
Different factors, including the spread of COVID-19, rapid urbanization, and population growth fueled the demand for GIS-enabled mapping solutions. United Nations Committee of Experts on Global Geospatial Information Management outlines five key drivers of GIS's rapid growth, including:
The availability of new data sources and analytical methods: data integration and interoperability, multiple data sources, new opportunities for data gathering, crowdsourcing and VGI, Big Data processing, integration of multiple data sources, digital platforms, and Linked Data.
Technological advancements: ubiquitous connectivity, digital infrastructure, Digital Twins, edge computing, visualizations, immersive technology, machine learning, AI data cubes, quantum computing, etc.
Evolution of user requirements: the rise of products and services, demand for real-time information, digital divide and exclusion, outdoor and indoor mapping, and Smart City.
Industry structural shift: diversity at work, talent and consumer shift, incubator spaces, regeneration of business ecosystem, and new collaboration agreements.
Legislative environment: digital ethics and privacy, cybersecurity, the pace of digital and tech change, pressure on the government.
Top 16 Geospatial Technology Trends for 2022
Geospatial technologies influence different aspects of our lives, so let's find GIS trends for your software.
#1 Real-Time Data
This GIS technology trend allows people to interact with data in real time. Mobile geospatial apps generate and analyze data from thousands of sources. Many geospatial fields need this innovation for instant accessing spatiotemporal data. Besides, spatiotemporal applications are useful for marketers, transportation dispatchers, and decision-makers.
#2 Miniaturization of Sensors
The Global Geospatial Solutions market is expected to reach $741.65 billion by 2027, increasing at a CAGR of 15.2%. The miniaturization of sensors is the driving force of market growth. The small size of sensors makes them more efficient, cost-effective, easily accessible, and popular. Now they can help customers in many ways by collecting more real-time data.
#3 Geospatial AI
Another geospatial technology trend is GeoAI.
GeoAI harnesses high-performance computing and is widely used to address real-world problems. This GIS trend facilitates gathering locations' real-time feedback. Software developers can improve their users' experiences using geospatial AI as it may be useful for feature recognition, image enhancement, and scalable modeling.
#4 Self-Driving Vehicles
The driverless vehicle industry is growing at an accelerating rate. It will reach $75.95 billion by 2027, according to reports. Geospatial technologies play a crucial role in this process. They enable cars to operate safely using radar and lidar. Access to high-definition geospatial details ensures successful navigation.
#5 Smart Cities
Statistics say that the revenue of startups in the Smart City technology sector will reach $30 billion by 2025. Thanks to geospatial technology and especially sensors, people can benefit from a better living experience. Collecting data with the geospatial is a core for building an efficient Smart Cities framework.
#6 3D and Digital Twins
"Digital Twins enable an asset-centric approach helping to model, simulate and predict the performance of assets, systems, and processes within the urban environment as the Future trends in geospatial technology & information management: the five to ten-year vision report states. The United Nations Committee of Experts acknowledges that GIS technology helps to make urban planning effective due to data analysis, sensors, and image capture and processing.
#7 Machine Learning
Machine learning is one of the most promising GIS technology trends. It is a key component of spatial analysis in GIS. Its algorithms identify any changes and patterns fast and effectively, giving people time for more important tasks and decisions. From "Machine Learning Algorithms for GeoSpatial Data. Applications and Software Tools", we can find that currently, ML deals with:
Nonlinear dimensionality reduction and data visualization;
Physical processes modeling in hybrid models;
Data analysis and modeling in high-dimensional spaces;
Data mining and forecasting.
#8 Artificial Intelligence
AI GIS is a combination of two important technologies that use spatial data processing and analysis algorithms. In recent years this field attracts more and more developers and researchers as Artificial intelligence can bring much use to building and solving GIS software issues. AI GIS technology consists of GeoAI, AI for GIS, and GIS for AI.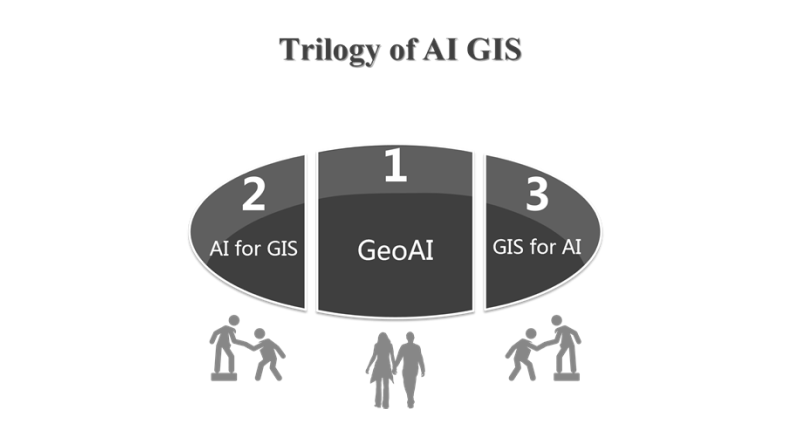 Taken from: https://www.supermap.com/en-us/news/?82_2701.html
#9 Sustainability
Sustainability initiatives are crucial today when climate changes affect people around the globe so dramatically. Smart technologies can help governments and businesses reduce their carbon footprint. GIS technology enables us to map out sustainability plans by visualizing and analyzing important data. The 2030 Agenda recognizes the value of geospatial information in making informed, data-driven decisions.
#10 Disaster Mitigation and Response
Incorporating advanced GIS technologies can help predict and prepare for natural disasters. With the Geographic Information System, people can quickly process large amounts of data to develop action plans and save lives. Today, geospatial data has been used in interactive visual analytics to track the spread of the Covid-19 virus.
#11 Automation
2022 sees the demand for workflow automation. Dealing with large GIS maps we cannot do without automating. It enables fast collecting and processing of data. GIS automated systems reduce the risk of errors and make your work more efficient. The Geographic Information System will be fully automated and ruled by AI soon.
#12 LIDAR
This is the new trend in GIS technologies. Light Detection and Ranging (LiDAR) is one of the new trends in GIS we cannot miss. It's used in various mapping applications, including forestry, urban planning, wreck detection, etc. Businesses adopt LiDAR for accuracy, support of autonomous vehicles, and mapping backpacks. Statistics say that LiDAR in the Mapping Market size will grow by 25% CAGR from 2020 to 2026.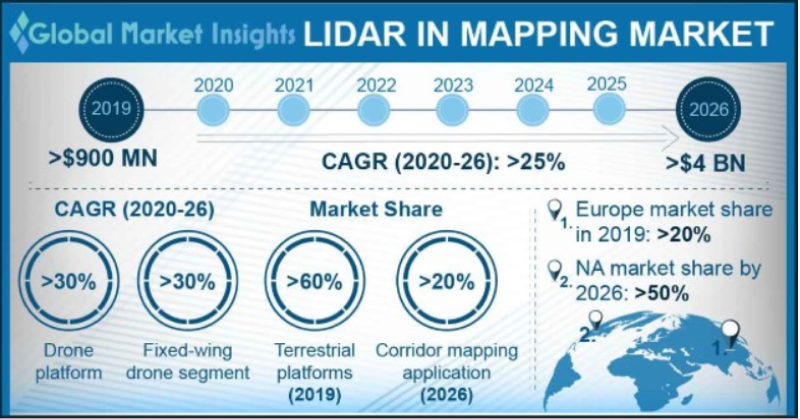 Taken from: https://www.gminsights.com/industry-analysis/lidar-in-mapping-market
#13 Geospatial AR apps
One of the most exciting future trends in GIS in 2023 and the following years is Augmented Reality. We use AR-related applications allowing us to see 3D virtual content, and in the future, this technology will make our world more digitized. GPS information and geography dataset help people interact with the environment using AR features. This year, Google presented a Geospatial AR API demo to navigate surroundings using AR.
#14 Subscription-based SaaS
With SaaS GIS tools, businesses can use GIS technology on a subscription basis and share data in a cloud-based format. SaaS GIS is perfect for remote workers who need to collaborate using the same tools and data. You can mitigate business risks and analyze ESG performance by implementing GIS tools. It strengthens the relationships between ag lenders and borrowers and reduces financial risk in portfolios.
#15 Image/Raster Analytics
Gathering, storing, and sharing new data is easy now with GIS. It provides the framework to manage imagery from aircraft, drones, and remote sensing. You can use these images instantly in different applications.
#16 GIS in The Cloud
The last one tendency in GIS technologies. Cloud computing is extremely popular nowadays, and 94% of enterprises benefit from Cloud services. Knowing recent trends in GIS will help you use various cloud resources. Cloud GIS enables flawless data access, distribution, capture, and IT management. You can sell your data or online services with the help of Cloud GIS solutions.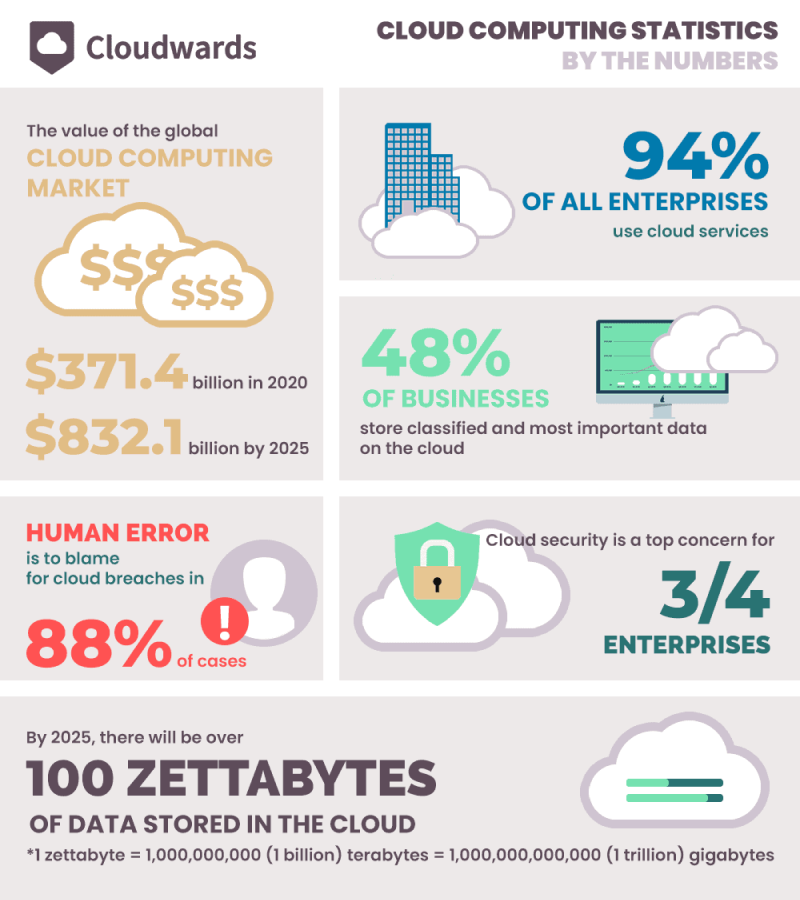 Taken from: https://www.cloudwards.net/cloud-computing-statistics/
Benefit from these trends and direction of GIS technology, and our custom mapping service will help you design GIS mapping solutions.
Exciting Future of GIS Technologies
Considering the Fourth Industrial Revolution megatrends, like digitization, urbanization, and population growth, GIS technologies become increasingly important for managing vast data ecosystems. The future of GIS is highly promising, and today we use this technology in various industries, including society, business, and policy.
The GIS technology trends impact the geospatial landscape. In the future, we will see more efficient software and open-source data. Users will be able to solve complex problems without much time and effort. Incorporating GIS will ensure safe data storage and increased portability.
The GIS market will witness the surging need for implementing analytics tools, mapping field operations, and managing geographic information in years to come. Companies and educational institutions will raise GIS awareness, as knowing GIS trends helps businesses grow and scale. Besides, the United Nations plans to use GIS to offer location information to various industries.
Mappitall's Experience in GIS Technologies
The Mappitall company is a leading expert in delivering top-quality GIS services. We keep track of modern GIS technology trends and know how to implement them in development services. Our team collects high-accuracy data from different sources, including satellite images, aerial photographs, and GPS field data, to create efficient geospatial mapping tools.
We have 15+ years of experience and a client-oriented approach. You can rely on our experts to develop game-changing GIS projects. On our website, you can find an MVP project development option, flexible cooperation models, and cross-domain full-stack expertise offers.
Final Thoughts
Now you see that GIS technologies shape our world and improve our lives. You can become a part of this driving force in creating your GIS software. We have a complete guide on GIS application development, and our experts are ready to help you with implementing the latest geospatial technology trends in your software. Do not wait to benefit from innovative tech trends and grow your business.
Frequently Asked Questions
What are the new trends in GIS?
There is a list of GIS trends for the future that every software developer should know. We cannot imagine modern geospatial technologies without cloud-based GIS, image/raster analytics, ML, AI, miniaturization of sensors, self-driving vehicles, LiDAR, automation, integration with virtual reality, and more.
What is the future of GIS?
GIS changes the world and is a part of different industries. We have a growing need to collect and analyze spatial data, and GIS enables businesses and governments to map and analyze information. Geospatial technology will be an indispensable tool for the proper operation of many fields. Research shows that the next five to ten years will see significant developments in how data is collected, managed, and maintained.
Are GIS solutions still relevant in 2022?
GIS technologies will keep growing throughout 2022 in the future. The GIS market is expanding, with software development the fastest growing category. Although GIS solutions are not ubiquitous, their impact on other industries is tremendous.
Can AI technologies be used for GIS development?
AI technologies are a useful tool for Geographic Information System development. AI and GIS convergence is a powerful solution for GIS application challenges. AI can improve GIS software intelligence, including AI cartography, AI interaction, and more. AI GIS can benefit you in data cleaning, remote sensing, semantic segmentation and classification, and digital mapping.