Reading Time:
14
minutes
GIS enables creating awareness, sharing knowledge, and optimizing various processes within a certain field. That is why, you can now see different ideas of how GIS could be used for urban planning, agriculture, geology, healthcare, and even real estate.
In this article, Mappitall GIS experts will help you look closer at the GIS applications and uses, explaining how this technology improves the industry's development and growth.
What is the Main Value of GIS Data?
GIS applications include both hardware and software systems that work with specific data. Usually, it can include cartographic data, photographic data, digital data, or data in spreadsheets. These types of information may appear seemingly unrelated at first. However, GIS technology can effortlessly get it combined based on the location as a key variable.
In other words, regardless of their source or original format, with GIS solutions, different data are overlaid on top of one another on a single map. The world map that can show either the correct sizes of countries or their correct shapes, can't do both. On the contrary, GIS takes data from the maps in different projections and combines them so all the insights can be presented within a single project.
Because of this specific ability, GIS technologies have gained large popularity across many fields. According to P&S Market Research, the GIS industry as a whole could be worth $17.5 billion in 2023 and is expected to reach $24,6 billion by 2030. Mainly, the key drivers for the GIS market development include:
Rising investments in GIS solutions
Growing demand for enterprise GIS solutions
The increasing availability of spatial data and cloud technology
Surging demand for GIS in LaaS (Logging as a Service)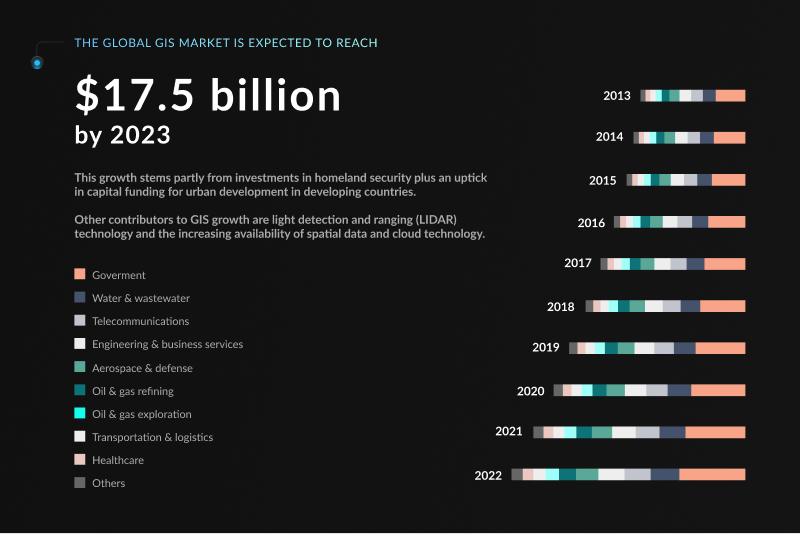 Taken from: https://imgur.com
In the upcoming years, the potential of GIS in various industries is great and quite multidisciplinary. Being focused on tasks such as data collection, cartography, and basic analysis, it can now be applied in many fields. However, to make use of these solutions, GIS professionals require a broad understanding of spatial sciences, problem-solving skills, and the ability to link theory and practice.
17+ Applications of GIS in Various Fields and Businesses
To prove the actual value application of GIS in various fields, it's essential to analyze the industries, for which GIS could be used. Below, we've covered a bunch of fields and business areas, where GIS solutions have been successfully implemented and those that are now evolving under this system.
We have counted over 17 industries that use GIS, so let's start looking at them immediately.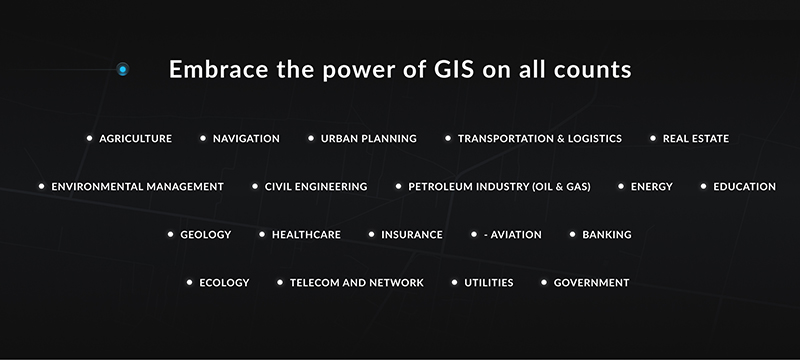 Agriculture
There are many cases of GIS use in the agriculture industry. Here, the geographic information system assists in creating effective and efficient farming techniques that can improve yields while reducing expenses. It's achieved through the soil data and crop specifics analysis, nutrition and hydration tracking, etc.
In this field, GIS is used not solely by farmers and agricultural companies. It can also help government agencies and regulatory entities effectively manage the programs for farming and environmental protection.
The typical use cases of GIS in farming are:
Precision Farming – Harvesting more bushels per acre while spending less on fertilizer using precision farming and software.
Disease Control – Combating the spread of pests by identifying critical intervention areas and efficiently targeting control interventions.
Swiss Alps Farming – Cultivating south-facing slopes in the Swiss Alps using aspect data because it shelters from cold and dry winds which is critical to successful crop growth.
3D Scanners for Biomass – Measuring with laser accuracy 3D biomass using the FARO scanner.
Navigation
In the navigation industry, GIS has been utilized in various areas, particularly for projecting the essential features and obstacles that may arise or threaten transport facilities.
For instance, the sailing field uses GIS data in signal and geographical contexts. Thus, it allows the creation of a simple adaptive process for navigation in real-time. The same approach can be used for vehicles and trucks, working similarly to GPS devices.
The commonly known GIS solutions in navigation and mapping include:
Waze Real-Time Driving – Saving time and money on your commute as drivers share real-time traffic information and road alerts with each other with Waze.
Estimated Travel Time – Locking in your destination and getting live updates for estimated travel time.
GPS Receivers – Nurturing mapping technology as it's almost standard to have a GPS receiver and a monitor with all the latest maps.
In-Vehicle Usage – Monitoring driving habits like speed, sudden acceleration, and pushing hard on the brakes for insurance underwriting.
Urban Planning
In this area, GIS data helps to process, analyze, model, and forecast urban growth, as well as its direction of expansion. Basically, this information benefits finding the right sites for further urbanization.
The critical factors here include land accessibility and a variety of geographical parameters. For example, using GIS, you can define whether the land is vacant, is more or less flat, and what resources it can provide to the potential inhabitants. Additionally, it enables urban project visualizations and notably facilitates public engagement.
The most typical examples of GIS in the urban planning areas are:
Crowd Simulation – Mastering the collective dynamics of interacting objects in urban phenomena. It covers individual households, people, and units of real estate on the scale of "real-time".
Geodesign – Visualization of building plans with a strong focus on stakeholder participation and collaboration, targeted on closely following natural systems.
Parking Availability – Modeling of the parking sites available. It is calculated based on the two types of data: percent of spaces occupied and time scale.
Tangible Landscape – Experimenting with the potential impact of different building configurations through a specific 3D sketching tool.
Transportation & Logistics
Mapping solutions have always been an essential aspect of transportation and logistics planning. In this area, GIS applications benefit from managing transportation and logistical problems. For instance, it enables the new railway or road routes based on environmental and topographical data. GIS technology also benefits from covering a variety of aspects, like road conditions, damage to habitats, traffic situations, and more.
Some of the most GIS applications examples in the transportation and logistics areas include:
Logistics Management – Planning, implementing, and controlling the efficient effective flow and storage of goods and services from a point of origin to point of consumption.
Railways – Tying railways together with CartoDB's railway map – from cargo to passenger trains.
Transportation Master Plan – Planning future highways and roads by looking at the growth of communities and traffic demand.
Transit Ridership – Collecting statistics on how many passengers ride transit in a given neighborhood.
Real Estate
Lease property and management organizations typically use GIS data to increase business profitability. Reduced operations and management costs, as well as increased revenue, are mainly achieved with space management. Real estate and property managers can see and make queries about the property based on its availability, size, and special constraints for the most cost-effective use.
In this field, some of the GIS application examples are:
Buffer Zone Search – Buffering a search area for a query when house hunting.
Comparative Real Estate Analysis – Comparing value per square meter in map form to see how much the price is for similar properties on the block.
Wind Farm Noise – Assessing the population and number of affected buildings affected by the noise of a wind farm.
Walkability – Understanding health factors like active transportation, bike paths, and walking paths in a neighborhood.
Environmental Management
Along with GIS for business, this technology is also used to preserve natural resources and the environment. Organizations can make data-driven decisions by projecting the potential impact of their activity on the environment.
Typically, it's implemented in the construction and operation of highways, railroads, pipelines, airports, radioactive waste disposal, and more.
Environmental Impact Assessment – Measuring anticipated effects on the environment of a proposed development project.
Dead Zones – Mapping out dead zones where marine life is unable to be supported.
Surface Water Flow – Characterizing water flow to be identified as a high consequence for oil spill mitigation.
Site Remediation – Removing contamination from a plot of land detailing risk exposure and an overview with maps.
Civil Engineering
GIS enables civil engineers to easily manage, reuse, share, and analyze data, saving time and resources. Civil engineers interpret the industry-related data into informative reports and visualizations, within a project and its broader geographic context. In most cases, GIS plays a critical role in supporting the life cycle of civil engineering companies, and even improves their cooperation with governmental structures.
Some of the examples of GIS use in civil engineering
Augmented Reality – Pulling up engineering diagrams and real-time sensor networks to view water pressure or amperage.
Asset Management – Managing infrastructure data maintenance along with their lifecycle.
Development Area – Getting the big picture by tapping into GIS data like gentle slopes, and closeness to roads.
COGO – Constructing points, spirals, curves, and arcs with coordinate geometry.
Construction Environmental Management Plan – Mitigating the potential negative impacts of engineering projects by identifying environmentally sensitive sites and mitigation measures.
Petroleum Industry (Oil & Gas)
GIS can solve a variety of challenges related to the petroleum area as well. Among the most common aspects, GIS is used for operations monitoring, resource management, pipeline routing, asset tracking, and many more. This tech solution also brings about risk and cost reduction for oil and gas production and distribution, mostly by determination of the suitable oil and gas pipeline routes.
Here are some of the well-known GIS software in the petroleum industry:
Oil Search – Magnifying the search for resources and extending beyond the core elements
Directional Drilling – Logging depth, inclination, and azimuth (dependent on true and magnetic north) for directional drilling.
Pipeline Route Selection – Optimizing route selection by taking a heuristic approach and multiple layers such as the environment, geo-hazards, and engineering.
Pipeline Infrastructure – Surveying footprints and inventorying pipeline infrastructures like pump stations, tank terminals, and pipelines.
Energy
In the energy sector, GIS solutions are mainly used in a wide range of aspects. For instance, to build the new generation facilities, or else determine the most profitable routes for new transmission and distribution lines. Also, GIS can help to evaluate the long-term demographic changes, create emergency evacuation plans around nuclear-generating facilities, and many more.
Great examples of GIS applications in the energy field are:
Marine Renewable Energy – Seeing the ocean of information with wave heights and wind for electric dam selection.
Access Limitation – Calculating access limitations for building like slope being a major factor for getting wagons up the hill to the site.
Energy Consumption – Drawing out energy capacity and consumption on a map.
Nuclear Waste Site Selection – Safeguarding people with proper nuclear waste disposal.
Education
In this field, GIS implementation can become an excellent tool for developing critical thinking and data analysis. Today, GIS methods dominate at the university level, mostly in geography, engineering, business, environmental studies, geology, and other disciplines.
Also, there are many add-on cases targeted a more practical GIS use cases in education, such as:
Campus Navigation – Navigate through a university campus with online mapping applications.
Safe Routes to School Mapping Toolkit – Deciding the safest route to school.
Bus Services – Assessing which addresses in proximity to a school are eligible for busing.
Projection Art – Investigating our Earth by understanding map projections.
Geology
For the geology field, GIS features a variety of improvement opportunities. The most notable of those include researching geologic features, analyzing soils and strata, and assessing seismic information. It can also be used to analyze rock information characteristics and identify the best dam site location. However, the most notable solution of GIS is a three-dimensional (3D) display of geographic features.
Here are some of the examples of GIS use in geology:
Well & Volumetric Data Visualization – Creating powerful, fast, customized 3D models with a fusion of geologic data, GIS data, well/borehole data, and point cloud data.
Aquifer Recharge – Determining potential aquifer recharge using steepness of slope and soil permeability.
Drill Hole Planner – Drilling with 3D planning tools including depth, azimuth, and positions.
Landform Classification – Classifying landforms with qualitative analysis of the surface like summits, passes, convex/concave break lines, crests, and more with gvSIG geomorphology tools.
Healthcare
GIS can also provide cost-effective insights into public health data. This technology helps to interpret the disease patterns in relationships with social, institutional, technological, and natural environments. Therefore, it helps to discover the spatial-temporal relation between environmental changes and diseases.
The most common examples of GIS technologies in healthcare are:
Tele-medicine – Quantifying populations and health care available for patients and health care providers.
Public Health Informatics – Ensuring patients get the care they need with public health care informatics.
Ambulance Response – Responding to emergencies faster with the quickest geographic route.
Disease Spread Patterns – Plotting ellipses for a disease outbreak over time to model its spread.
Insurance
Companies also use GIS to record the need for federal disaster relief funds, as well as assist in assessing the monetary value of property loss. That is why it is mostly related to fire or flooding disasters. Additionally, it allows mapping the environmental disaster risk zones in the surrounding areas, which is extremely important for the insurance entities.
Typically, the GIS applications for the insurance industry are presented by the following:
Insurance Risk – Charging higher insurance premiums in flood-prone areas using radar.
Real-time Hazard – Using location intelligence to Identify areas of hazard in real-time.
Insurance Fraud – Doing the detective work for fraudulent crop insurance claims.
Monitoring Driving Habits – Fastening seat belts and monitoring people's usage to charge car insurance.
Aviation
Location plays a critical role in all airport and aviation operations, as well as related management activities. The demand for air travel is increasing, and so does the need to effectively manage infrastructure and increase revenues. At the same time, companies cannot overlook the safety and security of clients and facilities.
So, in this field GIS data helps to analyze routes and capacities, plan re-routing, and contingency plans for weather-related or other emergencies.
For instance, it provides an excellent means of visualizing flight paths, capacities, or noise contours. This is extremely important for accurate air traffic management when the data should be up-to-date and easily accessible.
In aviation, the uses of GIS cover:
Drone No-fly Zones – Defining the certain no-fly zones for drones, such as near airports and military bases. This software helps to prevent the law violation and sets up clearer restrictions for drone owners.
Flight Simulator – Creating a three-dimensional perspective view of an area by combining elevation and imagery. Usually used for pilot training.
Live Air Traffic – Accessing an air traffic control in real-time, for example, like in Flight Radar 24.
Flight Path – Simulating flight paths integrated with elevation data, imagery, and other spatial data using Falcon View.
Banking
It might seem surprising, but the banking sector is also listed among GIS application examples. In most cases, GIS makes it more market-driven and market-responsive, and better focused on customer needs.
Additionally, GIS assists in improving the planning, organizing, and decision-making processes in banking. For instance, financial institutions can take snapshots of where their assets are, the arrangement of their facilities, and the placement of employees. Or else, visualize the "what-if" situations to better prepare for the different cases.
Some of the GIS uses in banking include:
Mobile Banking – Capturing locations where existing mobile transactions occur and assisting in mobile security infrastructure.
Merger and Acquisitions – Profiling and finding opportunities to gain and build where customers are with market profiling.
Supply and Demand – Identifying under-served areas and analyzing your competitor's market.
World Bank Economic Statistics – Slicing and dicing raw financial data from the World Bank.
Ecology
In this field, GIS has been used for monitoring the structural makeup of the landscape and habitat connectivity. Typically, GIS data helps to formulate the hypotheses for tests or to make new suggestions for ecological exploration. It also helps to make measurements, carry out calculations and effectively interpret the ecological data, which is usually very complex and multi-layer.
The examples of GIS in ecology include:
Urban Traffic Air Pollution – Recording urban traffic air pollution and quality through 3D visualization in planar and non-planar views.
DNA Traits – Mapping the richness, distribution, and diversity of organisms on the landscape based on a molecular marker (DNA).
Earth Trends Modeler – Assessing long-term climate trends, measuring seasonal trends in phenology, and decomposing image time series to seek recurrent patterns in space and time in IDRISI TerraSet.
Flocking Birds – Mimicking flocking birds in a system of interactive parts using Agent-Based Modeling.
Telecom and Network
This industry is probably one of the most dependent on GIS technology. The telecom and network industry utilize GIS in mapping, inventory systems, tracking maintenance, monitoring regulatory compliance, and many other areas.
Moreover, telecom providers can reach customer growth through detailed demographic information. Knowing the employment, affluence, and neighborhood characteristics, companies can generate maps that help to pinpoint ideal areas for network expansion.
Excellent examples of GIS utilization in telecom are:
Network Management – Managing a network of telecommunication cables and towers in a network data set.
Locating Cell Towers – Locating cell tower placements in urban areas using 3D building structures.
Cellular Coverage Analysis – Maximizing cellular coverage using tower height by using interference analysis including viewshed and line-of-sight.
Fiber Optic Cable – Planning fiber optic cable infrastructure through network views showing capacity, equipment, and customer demographics.
Utilities
With GIS, finding, accessing, and collecting field data is easy as ever before. This system enables utilities to automatically organize information by location and store it within a single platform. Since the GIS technology doesn't depend on the knowledge of a single person, anyone can get immediate access to any data required.
For utilities, permanent access to the historical data can improve the future maintenance schedule, task management, and performance, as well as more opportunities for long-term planning.
GIS solutions for utilities are mainly presented with the following systems:
Underground Utilities – Penetrating the ground with radar for precise locations of underground gas, water, electrical, and telephone utilities.
Permafrost – Assessing the impacts of permafrost freezing and thawing on utility lines.
Billing Systems – Updating and correcting the billing system for the cost of street and security lighting.
Power Distribution – Figuring out which distribution line could take down an entire network.
Government
National governments use GIS technology to manage programs and check policy outcomes.
GIS data can empower critical solutions and deliver more insights that can engage both the stakeholders and the nation. Apart from the general aspects like voting and internal governmental processes, GIS can also optimize taxing systems and border safety. Moreover, the system can significantly optimize the performance of critical infrastructure: police, fire, ambulance, and other rescue services, which is extremely critical for the effective country today.
Some great examples of the use of GIS in governmental infrastructure cover:
Open Data – Opening up government (tax-payer) data through geospatial open data portals and data sharing strategies.
Border Safety – Increasing safety at international borders often stretches miles.
Redistricting – Encouraging citizen involvement through web-based applications for the redistricting process.
Enabling Governments – Saving money by investing in a GIS-based system for decision making.
Voting Patterns – Reviewing how electoral districts voted at the polls.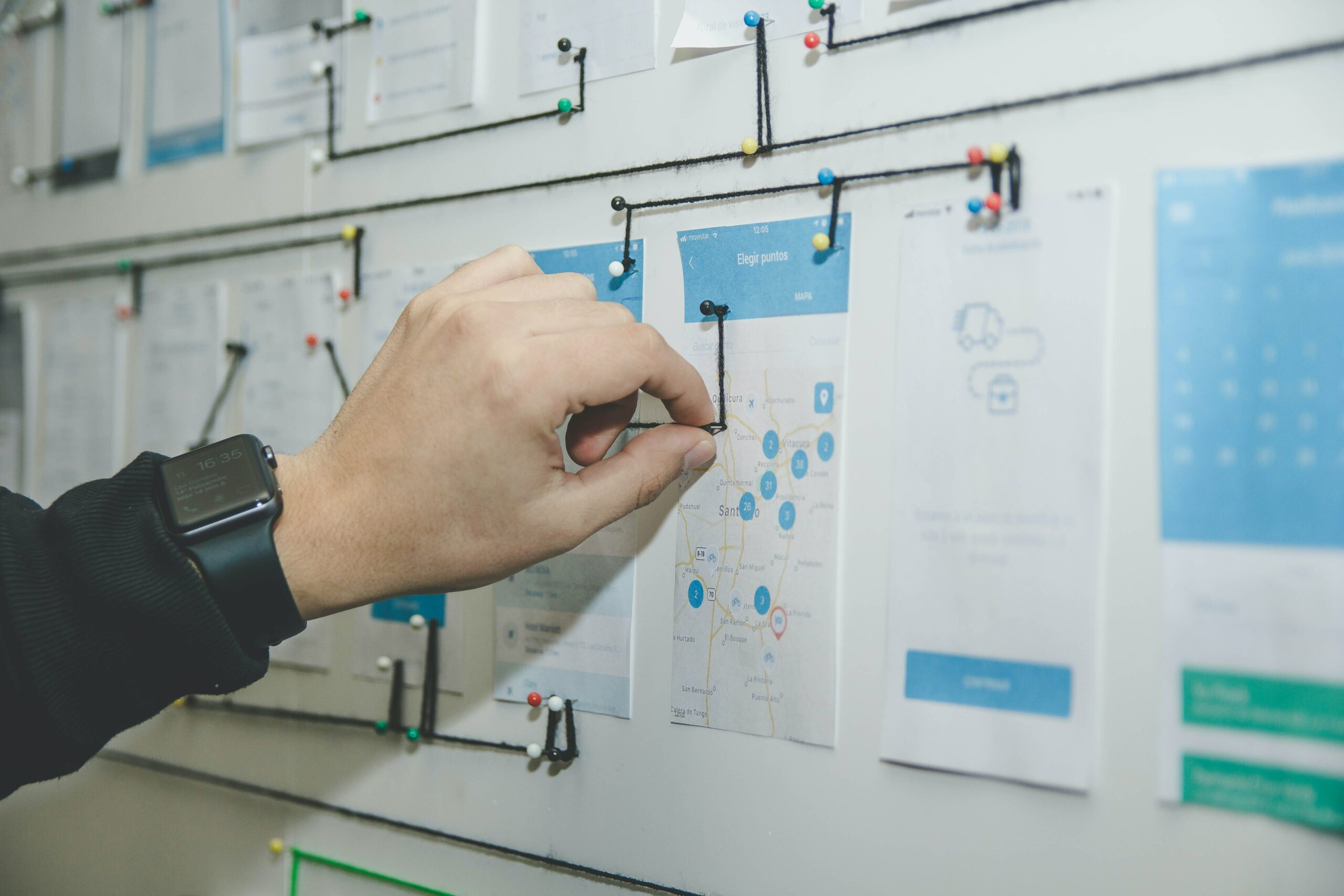 Taken from: https://unsplash.com
How Can Mappitall Help You with GIS Solutions for Your Business?
Once you've decided to develop a GIS application for your enterprise, hiring a dedicated team of developers is of the essence. At Mappitall, we have been delivering innovative mapping solutions for more than 15 years. Our team has completed and implemented nearly 100 GIS app projects across the industries and is ready to meet the new tech challenges day by day.
In our crew, you'll meet experts in narrow fields of knowledge, each of whom is always searching for the newest trends in mapping solutions.
The custom mapping services we offer include a variety of technologies in cartography, data analysis, web app development, and indoor mapping. So, no matter what sort of project and how challenging it is, we're ready to find the best solution that ideally fits your business goals and needs.
Final Thoughts
Now it becomes more than clear that GIS solutions have been widely implemented in a variety of different industries. So far, there are more than 1,000 different areas where GIS data is used, and it will only increase in the future.
Having reviewed the GIS applications and uses, companies now can realize the potential of the mapping data sets and databases. From archaeology, geology, and waste management to asset management, aviation, and even banking – GIS data is being integrated anywhere.
Once implemented, this tech solution can slightly optimize or even notably change the entire industry development, which makes it an irreplaceable technology today.
If you have some more questions concerning the development and use of GIS – we're always here to help! Contact the Mappitall team to discover the most effective mapping solutions for your business today!
Frequently Asked Questions
Still, have some questions about the use of GIS? Find the answers among the most common ones asked by Mappitall clients!
What industries use GIS?
Among the industries that widely use GIS, it is worth noting real estate, civil engineering, energy sector, education, geology, healthcare, insurance, aviation, and many others.
How is GIS used in business?
For any sort of business, GIS helps to better manage the information based on its location, allowing them to accurately identify the needs and problem areas for efficient, data-driven decisions. As a rule, the most usual processes it empowers include customer location, business sitting, targeted marketing campaigns, local sales optimizations, and more.
How can GIS be applied and utilized in different fields?
GIS applications feature an advanced foundation for mapping and analysis throughout different industries. In general, these systems allow connecting data to a map, integrating the location parameters (where the things/objects are) with all types of descriptive information (what characteristics those things/objects) have.
What are the main benefits of using GIS across industries?
Once implemented, GIS information can provide a wide range of business improvements regardless of the industry. The most significant of those include the enhanced decision-making process and cost savings, resulting from greater efficiency. Additionally, a geographic information system can improve communication, data management, and processing, which is exceptionally important for the successful performance of any business today.